Gluten-Free/Dairy-Free/Plant-Based/Vegan
I'm often asked what I eat for meals throughout the day, and this is the most common breakfast item that hits my belly on a regular basis. It's a fantastic on-the-go item that I love sticking in my kids' lunchboxes, and also my favorite pre-workout meal when I'm training for triathlons. 
I love how versatile this recipe is, since you can use chocolate chips, fruit, nuts, seeds, cinnamon, or any combination your pretty little heart desires. In fact, I also like to spread a thin layer of peanut butter on top of the chocolate chip version because WHY NOT??
Banana Oatmeal Breakfast Bars
4 bananas, very ripe
1 cup non-dairy milk (I use oat milk)
1 cup maple syrup
1 teaspoon vanilla extract
5 cups rolled oats
3/4 cup mini chocolate chips* (my favorite brand is Enjoy Life)
Preheat oven to 350 degrees. Peel bananas, break into chunks and place in a blender with oat milk, maple syrup, and vanilla. Puree until smooth. Pour into a large mixing bowl, add oats and chocolate chips; stir together well. Spoon into a 9×13 inch pan that has been lined with parchment paper and press into an even layer. Bake for 35-40 minutes. Remove from oven and cool completely before cutting into bars. Wrap individually in plastic wrap, store in refrigerator for up to 5 days or in the freezer for up to 6 months. If freezing, pull out to thaw in refrigerator overnight.
*Variations: you can add a teaspoon of cinnamon and substitute chocolate chips with frozen wild blueberries and chopped walnuts, or any other combination of fruits and nuts you prefer!
ADD SOME PROTEIN POWDER!! I like to add anywhere from 1/2 cup to 1 cup of vanilla protein powder into my breakfast bars for a little punch of protein.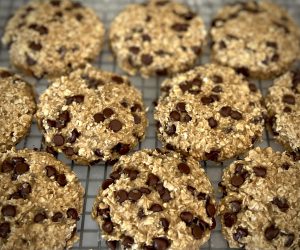 Banana Oatmeal Cookies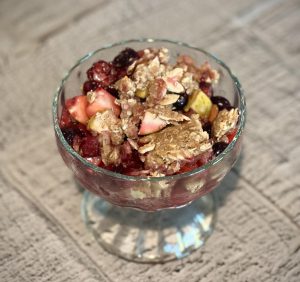 Fruit Crumble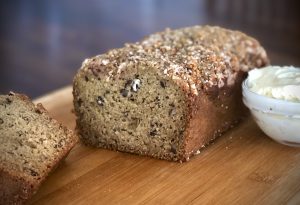 Banana Nut Bread with Whipped Honey Butter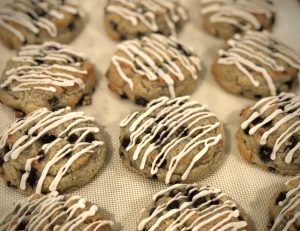 Lemon Blueberry Scones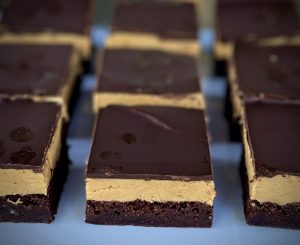 Buckeye Brownies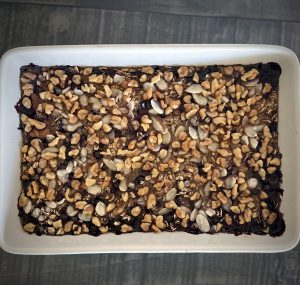 Baked Oatmeal