What do I even say about this cheesecake, other than the fact that it sells out incredibly fast at Krafty Draft every single time I have put it on the menu? I mean, can anything else be said about it?
Oh yes. Let's talk about how this classic New York style cheesecake made with light brown sugar and packed with chunks of Snickers candy bars on a chocolate graham cracker crust, topped with a smooth layer of chocolate ganache, sprinkled with more chunks of Snickers, then drizzled with caramel sauce. Nuff said, and I hope you enjoy this recipe as much as everyone around here does.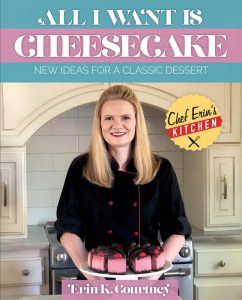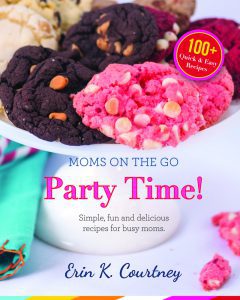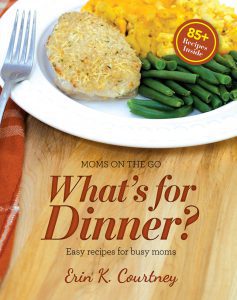 Recommended Books
Snickers Cheesecake
For the Crust:
1 1/4 cups chocolate graham cracker crumbs
2 tablespoons light brown sugar
5 tablespoons unsalted butter
For the Filling:
4 (8 oz.) packages cream cheese, softened
¼ cup cornstarch
1 cup granulated sugar
2/3 cup light brown sugar
2 eggs
1 tablespoon vanilla extract
¾ cup heavy cream
2 Snickers candy bars, chopped into chunks
For the Topping:
1/2 cup semisweet chocolate chips
1/4 cup heavy cream
2 Snickers candy bars, chopped into chunks
Caramel Sauce (storebought or homemade)
Preheat oven to 350 degrees. Double-wrap the outside of a 9 inch springform pan with heavy duty aluminum foil, place inside a 12 inch cake pan. Place graham cracker crumbs and 2 tablespoons sugar in a small mixing bowl, toss together. Add the melted butter and mix with your hands until thoroughly combined. Rub butter all along the bottom of the springform pan, then press graham cracker mixture evenly along the bottom. Place pans in the oven to bake for 7 minutes, remove pans from oven and set aside.
In a standing mixer (or mixing bowl and using electric mixer), add 8 oz. cream cheese, cornstarch, and 2/3 cup light brown sugar. Beat at medium speed with the paddle attachment until mixture is smooth. Add another 8 oz. cream cheese, along with 1/3 cup sugar, continue to beat until smooth. Add remaining cream cheese and granulated sugar, one at a time, until smooth. Slow mixer to stirring speed, add vanilla and one egg at a time, scraping down the sides. Turn on to stirring speed and slowly add heavy cream, beat just until mixed in (do not overmix). Gently stir in chunks of Snickers. Spoon batter into springform pan on top of graham cracker crust and spread into an even layer.
Pour warm water into the larger cake pan, creating a water bath (this prevents cracks). The water should come up at least 1 inch around the springform pan. Carefully place pans in oven and bake for about 1 hour 15 minutes, until lightly browned on top. Remove pans from oven, pull the springform pan out of the larger pan and place on a cooling rack for about 4 hours to cool completely. Remove aluminum foil from around pan.
Cover springform pan with plastic wrap and place in freezer to set for at least 4 hours, but preferably overnight. Remove plastic wrap from springform pan, release and remove sides of springform. Place a piece of parchment or wax paper on top of cheesecake, turn upside down onto a flat surface. Carefully remove bottom of pan, turn back over onto a serving plate.
Heat 1/4 cup heavy cream in microwave safe dish in microwave for 45-60 seconds, or until cream is boiling. Pour over 1/2 cup semisweet chocolate chips in a small mixing bowl, then whisk together until chocolate is melted and smooth. Spread into an even layer on top of cheesecake, return cheesecake to freezer to set.
Cut into slices with a sharp, straight edged  knife, wiping knife between each cut. Store cheesecake in refrigerator until ready to serve for up to 7 days, or in the freezer for 1 month. Garnish with more Snickers chunks and caramel sauce.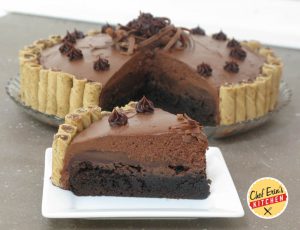 Brownie Truffle Pie