Click HERE to watch the video tutorial of this recipe!
Fourth of July is one of those big holidays where we all like to get together and have some fun, right? Of course it is! So, whether your gathering is just your immediately family, small group, or waving at people from far away, this dessert is ridiculously easy to throw together…yet delicious and light.  Perfect combination, and it's cold too! There are  just so many wonderful things going on with this recipe. 
It literally takes five minutes to throw together after everything is thawed, and letting it sit in the refrigerator for a couple hours lets all of the fruit juices soak into the angel food cake for added moisture and flavor.
Recommended Books
Super Easy Fourth of July Trifle
14 oz. angel food cake
12 oz. frozen blueberries, thawed
1 lb. frozen sliced strawberries, thawed
2 (8 oz.) containers frozen whipped topping
fresh blueberries and strawberries (optional garnish)
Tear half of the angel food cake into pieces and layer into the bottom of a trifle dish. Spoon frozen blueberries, along with juice, on top of sponge cake. Spread 1 container of whipped topping on top of blueberry layers. Tear remaining angel food cake into pieces and place on top of whipped topping, followed by frozen strawberries and juice, then remaining container of whipped topping. Garnish with fresh strawberries and blueberries, cover with plastic wrap and store in refrigerator to set for at least 2 hours before serving. Store in refrigerator for up to 1 week.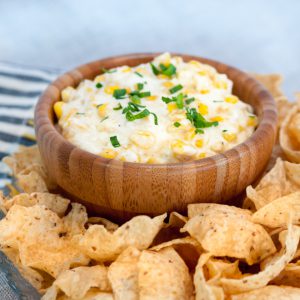 Creamy Corn Dip