Gluten-Free/Dairy-Free
For my daughter's science project this year, we picked a muffin topic. How do different types of flour affect the consistency and density of muffins? When she and my husband were reading over different topics to choose from, I about jumped out of my skin with excitement. "Let's do THAT one!!" I cried. My daughter giggled, hubby said, "How about we let her pick?" Thankfully, her love of food runs deep and she chose this topic. Score.
So, we decided to make the muffins using three different flours: all-purpose, whole wheat, and gluten-free all-purpose. We made all three batches with just a regular cinnamon flavor and a little bit of icing drizzled on top. I had all three muffins out for her to taste each one to see which one she liked the best. She grimaced at the whole wheat muffin, saying it was too chunky. She took a bite of the regular all-purpose muffin, shrugged, then took a bite of the gluten-free muffin last. She looked at it, took another bite. And another. "Can I eat the whole thing?" she asked. "Of that one?" I was shocked. "Yeah, I like this one the best." Y'all, that was music to my ears that her favorite one was the gluten-free muffin!! How could it be possible she picked that one??
So, I decided to change the recipe just a little bit to shift these little guys into Apple Cider Donut Muffins, with a hint of apple cider in the muffin along with the tops dipped in more apple cider along with a cinnamon sugar mixture. This reminds me of getting the Apple Cider Donuts in the mountains at the apple orchard, so it was a win-win all the way around for us, since we weren't able to make it up there this year.
After I made this batch and told the kids to try them out, they raced to the counter to grab theirs and gobbled them down…asking for more. A few minutes later, my daughter walked up and said, "You know what those muffins remind me of? The donuts that we get in the mountains when we go to the apple place." I laughed and said, "That's exactly what I was going for. And guess what? Those are both gluten-free and dairy-free." Her eyes got big and she cried, "How did you do that??" LADIES AND GENTLEMEN, WE HAVE A WINNER.
Apple Cider Donut Muffins
For the Muffins
2 cups gluten-free all-purpose flour
1 tablespoon baking powder
1 teaspoon ground cinnamon
1/2 teaspoon salt
1/4 teaspoon nutmeg
3/4 cup maple sugar*
1 egg, beaten
3/4 cup apple cider
1/2 cup liquid coconut oil
Preheat oven to 400 degrees. In a medium size mixing bowl, whisk together flour, baking powder, cinnamon, salt, nutmeg, and sugar. Create a well in the center. Add oil, apple cider, and beaten egg. Stir together just until combined, batter will be lumpy. Distribute evenly into lined muffin pan, place in oven to bake for 20-24 minutes, or until a light golden brown. Remove pan from oven, transfer muffins to cooling rack to cool completely.
*Can be substituted with granulated sugar. I prefer maple sugar because it's a sweetener used in Paleo recipes, has a wonderful flavor, and has a lower glycemic index with more nutritional value than cane sugar.
For the Topping
1/4 cup granulated sugar
1 tablespoon ground cinnamon
1/4 cup apple cider
In a small bowl, whisk together cinnamon and sugar. Dip the top of each muffin first into the apple cider, then into the cinnamon sugar mixture. Store muffins in airtight container for up to 3 days, or wrap individually with plastic wrap and store in freezer for up to 3 months.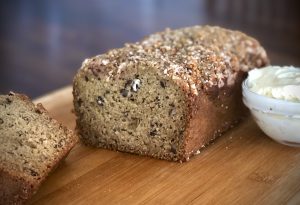 Banana Nut Bread with Honey Butter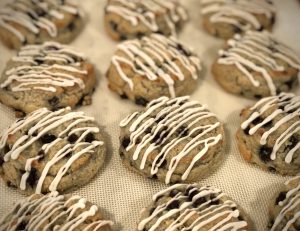 Blueberry Scones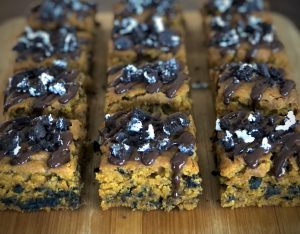 Pumpkin Oreo Brownies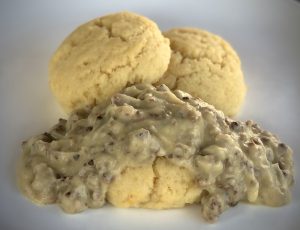 Cauliflower Sausage Gravy with Almond Flour Biscuits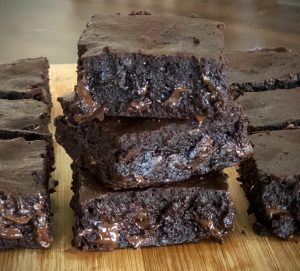 Dark Chocolate Fudge Brownies