Gluten-Free
I was first introduced to Chocolate Pecan Pies about five years ago while working in the restaurant industry as a pastry chef. The restaurant where I worked sold these pies in bulk since they were a huge hit, so to save time they bought the pre-made pie crusts to be filled up with this delightful pie. After playing with the recipe, it just didn't seem like there were enough pecans. It's supposed to be a pie packed with nuts, right? My thoughts exactly, so I ended up doubling the amount of pecans used in that recipe. 
Years go by, and the recipe that I used back then was long gone. So, I had to start from scratch. That's a good thing though when you're in the process of transitioning recipes into gluten-free versions, so here was my opportunity! I was also looking to use maple syrup in place of the corn syrup for a healthier version without losing the rich flavor that you expect, biting into a chocolate pecan pie. After all, we're not looking to miss out on flavor this time of year, are we? Um, no. We are not.
After discovering a version of Gluten-Free All-Purpose Flour and how glorious it has been with so many other recipes, I HAD to try it out as a sweet pie crust. It was a little more delicate than a traditional crust when it came to handling it, but good grief it was good. If you're not up for making a traditional pie crust and are looking for a quicker and easier option, make the Almond Crust recipe instead.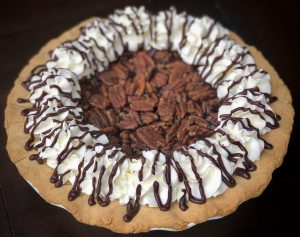 Garnishes are always optional, so here is a picture of it a little more Fancy Schmancy with whipped cream and chocolate ganache. You could also serve this with a scoop of ice cream, the possibilities are endless!
Chocolate Pecan Pie
Gluten-Free Sweet Pie Crust (for a traditional crust)
1 1/2 cups Gluten-Free All-Purpose Flour
1/3 cup confectioners sugar
1/4 teaspoon salt
9 tablespoons unsalted butter
1/2 teaspoon vanilla extract
1 egg yolk
3 tablespoons ice cold water
Cut butter into small chunks, place in a small mixing bowl and put back in the refrigerator. In a large mixing bowl (or food processor), whisk together the flour, sugar, and salt. Add cold butter. Use a pastry tool (or pulse if using a food processor), cut butter into flour mixture until it resembles a coarse meal. In a small bowl, whisk together yolks, super cold water, and vanilla until combined well. Add to flour mixture, tossing with a fork or pulsing until incorporated. Form dough into a ball and divide into 2 pieces. Form each piece into a ball and flatten to form disks. Wrap each disk separately in plastic wrap, chill for at least 1 hour and up to 1 week in refrigerator, or up to 1 month in freezer.
Remove one dough disk from refrigerator, let soften slightly (about 15-30 minutes) before rolling out (my favorite way to roll out dough is on a silicone rolling mat). Roll to 1/4 inch thick, press dough into a 9 inch pie plate in the bottom and up the sides. Poke holes in the dough with a fork. Place pie plate in refrigerator to let dough chill for 15 minutes, while preheating oven to 350 degrees. Bake pie crust for 15-20 minutes, until a light golden brown. Remove from oven and prepare filling.
Quick and Easy Almond Crust (for a quicker, easier crust)
2 cups almond flour
1/4 cup maple sugar or light brown sugar
1/4 butter, melted
Toss together all ingredients and press into a 9 inch pie plate in the bottom and up the sides. Place pie plate in oven and bake at 350 degrees for 10 minutes, remove from oven and prepare filling.
For the Filling
3 cups pecans
6 tablespoons unsalted butter
3/4 cup dark chocolate chips (my favorite brand is Enjoy Life)
3/4 cup maple syrup
4 large eggs
1/2 cup maple sugar*
1 tablespoon vanilla extract
1/2 teaspoon fine sea salt
Combine chocolate chips and butter in a microwave safe dish and heat in 2 – 30 second intervals, stirring until melted and smooth. In a medium size mixing bowl, whisk together the eggs, maple syrup, sugar, vanilla, and salt. Add cooled chocolate mixture and stir well until smooth and combined. Stir in pecans, pour into pie crust. Place pie plate on sheet pan and bake for 35-40 minutes. Let pie cool on cooling rack completely before serving, top with whipped cream if desired. Store in refrigerator for up to 5 days.
Whipped Cream Topping
1 cup heavy cream
1 tablespoon granulated sugar
1 teaspoon unflavored gelatin (optional, but this gives it more stability)
Combine heavy cream and sugar in a standing mixer or mixing bowl, beat at medium/high speed until soft peaks form. Sprinkle in gelatin and continue to beat for another 15-20 seconds. Spoon whipped cream into a pastry bag and pipe on top of chocolate layer with a cake decorating tip, or you can smooth into an even layer. Garnish with chocolate curls or chocolate syrup, if desired. Store in refrigerator for up to 5 days.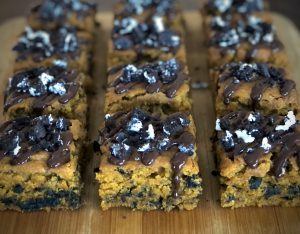 Pumpkin Oreo Brownies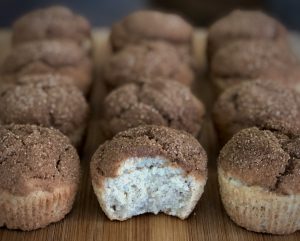 Apple Cider Donut Muffins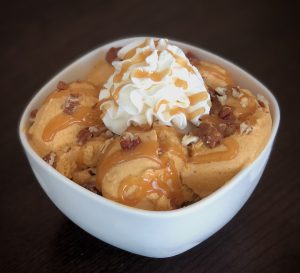 No-Churn Pumpkin Spice Ice Cream