Gluten-Free/Dairy-Free/Plant-Based/Vegan
While I was sitting on the couch enjoying my coffee on a Sunday morning, I looked over at the kitchen and spotted them. There they were, bananas that were browning. My husband saw me staring, and asked what I was thinking about. "Those bananas are getting brown! I can making Banana Oatmeal Cookies with them today!!" I exclaimed. He chuckled, and said, "You get wayyyy too excited about food." I disagree.
When I started looking at different recipes, I decided to put my own spin on making these cookies a little bit sweeter by adding some maple syrup. Since I'm always looking for healthy options to stuff in my kids' faces, this was the perfect opportunity.
When I called my son downstairs to try out a new recipe, he happily accepted his task. After taking a bite, he looks at me and says, "This taste like bananas!"
Since he's not addicted to sugar, the baked goods that have a subtle sweetness are enough for his little palate. These cookies can be eaten as a breakfast cookie or a snack…or just because you want a cookie. Anytime is a good time for a cookie, especially when it's healthy.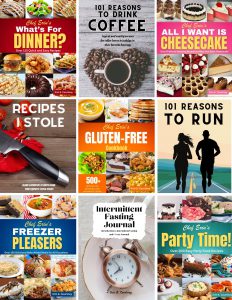 Banana Oatmeal Cookies
2 large, ripe bananas
2 1/4 cups rolled oats
1/4 cup maple syrup
1 teaspoon vanilla extract
1/2 cup mini chocolate chips (Enjoy Life is my favorite brand)
Preheat oven to 350 degrees. Combine bananas, syrup, and vanilla in a small blender or bullet and puree until smooth. Pour into a medium size mixing bowl, stir in oats and chocolate chips until well incorporated. Using a cookie scoop, distribute cookies (about 3 tablespoons) to a silicone lined baking sheet. Gently press down and shape, these cookies don't rise or spread. Place in oven and bake for 11-13 minutes. Remove pan from oven, transfer cookies to cooling rack to cool. Store at room temperature in cookie container for up to 5 days, or wrap individually in plastic wrap and store in freezer for up to 6 months.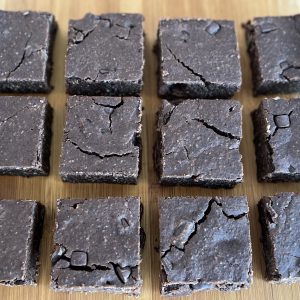 Fudgy Black Bean Brownies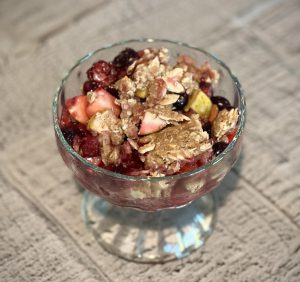 Fruit Crumble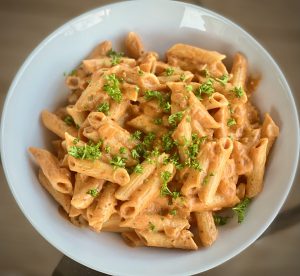 Penne alla Vodka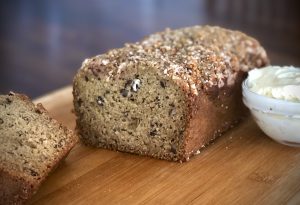 Banana Nut Bread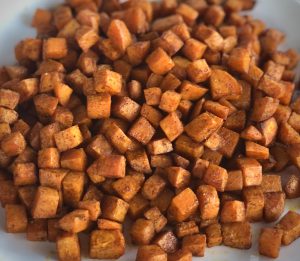 Roasted Chipotle and Cinnamon Sweet Potatoes