Gluten-Free/Dairy-Free/Vegan/Plant-Based
Click HERE to watch the video!
If you're looking for a way to squeeze more fiber into your family's diet without them knowing, I've got you covered. Over the years, I have heard people talk about brownies made with black beans, but I always cringed at the thought. They can't possibly taste like fudgy brownies though, right? WRONG.
I've been trying to incorporate more fiber into the foods my kids eat, and decided to give this a shot. I'm all about tricking people into eating healthier, so this was right up my alley. The original recipe made brownies that were quite thin. Well, I like my brownies to be THICCC. My apologies, I'm terrible with these new slang words. Let's go with fluffy brownies.
Anyway, I altered the recipe by doubling the ingredients and making them in a larger pan. Making food in larger batches and freezing them is my jam, and this was no exception to the rule. The first time I made them in a food processor, but after making them in my high-powered blender, I was sold.
When I took a brownie for my brother to try, he noticed there was something slightly different about these brownies, but couldn't pinpoint what it was. After he already said he liked them by finishing one off and asking for another, I told him the main ingredient was BLACK BEANS. He stared at me in shock. "What?? How??"
Magic, Big Bro. MAGIC.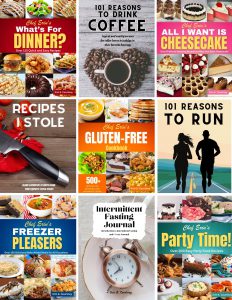 Black Bean Brownies
2 (15 oz.) cans black beans, drained and rinsed
1/4 cup organic cacao (or unsweetened cocoa)
1 cup gluten-free quick cooking oats
1/2 teaspoon salt
1 teaspoon baking powder
1 cup maple syrup
1/2 cup coconut or avocado oil
1 tablespoon vanilla extract
1 cup dairy-free chocolate chips (my favorite brand is Enjoy Life)
1 cup chopped nuts (optional)
Preheat oven to 350 degrees. In a blender, combine all ingredients (except chocolate chips and nuts) and puree until smooth. Pour into a greased and lined 8 inch square pan. Add chocolate chips and/or nuts, stir together and spread into an even layer. Place pan in oven and bake for 30-35 minutes, until a toothpick inserted in the center comes out with just a little bit of a fudgy tip. Cool for about 30 minutes before cutting into squares. Store in airtight container for up to 5 days, or individually wrap and store in freezer for six months.
*Double the recipe to make in a 9×13 inch pan!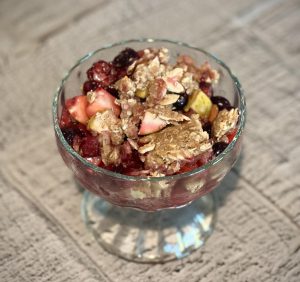 Fruit Crumble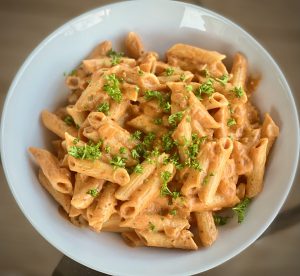 Penne alla Vodka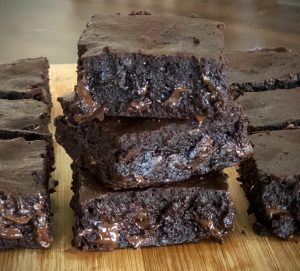 Paleo Fudge Brownies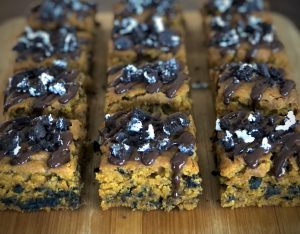 Pumpkin Oreo Brownies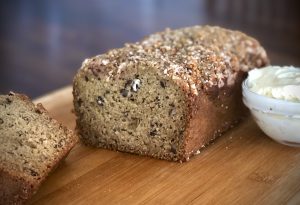 Banana Nut Bread with Honey Butter