Gluten-Free/Dairy-Free/Vegan/Mediterranean
While I was trolling through YouTube watching cooking videos, I came across this recipe on Anne's Family Recipe channel. She made the traditional sauce that has dairy and gluten, but I realized quickly this was something I could easily replace these ingredients so my gut wouldn't sucker punch me…in the gut. 
Ever since I made almond milk from scratch, I've been wanting to make different nut milks and use them as dairy substitutes in different recipes. Heavy cream is one of my favorite ingredients to use in traditional recipes, so this was the perfect opportunity. If you've ever seen me inhale the different aromas in my cooking videos, you can imagine how many times I basically stuffed my face over all of these sauces and breathing deeply. If my husband ever sets up candid cameras in my kitchen, that would be an entertaining sight to see.
I made this dish without meat, but you can very easily add some Sauteed Shrimp or any type of cooked chicken. If my family wasn't so opposed to mushrooms, I definitely would have sauteed some and thrown them into the mix. Party poopers. If gluten and dairy don't upset your belly like it does mine, feel free to use store-bought pesto and heavy cream in place of the cashew cream. I'll be honest though, after making the cashew cream for this recipe, I will be making it a lot more often for savory recipes that call for heavy cream.
Penne alla Vodka
2 tablespoons coconut oil
1 medium onion, diced
4 garlic cloves, minced
1 teaspoon dried Italian seasoning
6 oz. can tomato paste
1/4 cup vodka
1/2 cup pesto (recipe below)
salt and pepper to taste
1 batch cashew cream (recipe below)
1 lb. gluten-free penne pasta
Cook onion with coconut oil in a skillet pan on medium heat until tender, add garlic and Italian seasoning, stir. Add tomato paste and vodka, stir again and continue cooking.  Stir in pesto, salt, pepper, and cashew cream until well-combined. While sauce is cooking, cook pasta according to package directions. Sauce will be thick, you can add hot pasta water to thin out sauce to your desired consistency. Add drained pasta to sauce and stir together, serve hot.
Pesto
2 cups basil leaves, stems removed
2 tablespoons pine nuts
2 cloves garlic, minced
1/2 cup extra virgin olive oil
1/2 cup dairy-free parmesan cheese
Combine basil leaves, pine nuts, and garlic in a food processor and process until finely minced. Slowly drizzle in olive oil and continue to process until smooth. Add parmesan and process just until combined. Store in refrigerator for up to 7 days or freezer for up to 4 months.
Cashew Cream
1 cup raw whole cashews (soaked overnight)
1 cup water
2 tablespoons nutritional yeast
1/2 teaspoon sea salt
1/2 teaspoon onion powder
Rinse and drain cashews with cold water. Combine all ingredients in a high powered blender and puree until smooth, scraping down sides as needed.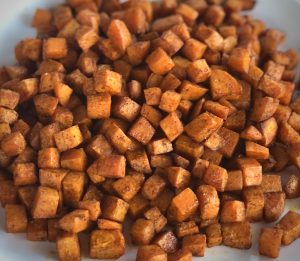 Roasted Chipotle and Cinnamon Sweet Potatoes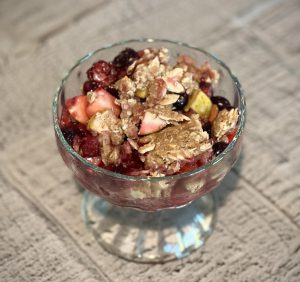 Fruit Crumble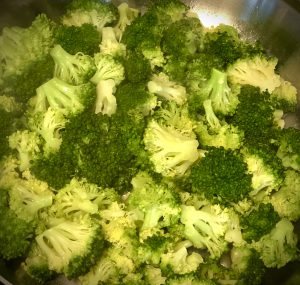 Our Favorite Broccoli