Have you ever had a moment in a grocery store where you just stood in awe? That's what happened when I came across the Bailey's Irish Cream Baking Chips while I ran into a local grocery store. Is this real? What can I use them to make? Is there a unicorn that's going to jump out when I grab them off the shelf?
Bi-Lo is a grocery store that's close to my house with a pretty decent baking aisle. I don't normally get most of my ingredients from there because there's nothing there that I'm actually BUYING LOW. The name makes me chuckle because it is a little deceiving, but they have some specialty items in the baking aisle that draws me in, and these Irish Cream Baking Chips definitely ending up as the result of this recipe.
I went back and forth on using Irish cream liquor in the cupcakes versus the icing. The end result was the Irish cream being in the cake batter with the chocolate chips, topped with chocolate Irish cream buttercream icing and chocolate ganache as a nice pop of chocolate to compliment the Irish cream deliciousness in the cupcakes.
Recommended Books
Chocolate Chip Irish Cream Cupcakes
For the Cupcakes
1 box Duncan Hines yellow cake mix
1 small box instant vanilla pudding mix
3/4 cup vegetable oil
1/2 cup Irish cream liquor
4 eggs
8 oz. sour cream
1 bag Bailey's Irish Cream Baking Chips
Preheat oven to 350 degrees. Combine all ingredients (except chocolate chips) in a medium size mixing bowl or standing mixer, beat at medium speed for 1-2 minutes until batter is smooth. Stir in chocolate chips.  Scoop batter into lined muffin pans, place in oven to bake for 21-23 minutes, until a toothpick inserted in center of cupcakes comes out clean. Remove pans from oven, remove cupcakes from pan to cool completely on cooling racks.
For the Chocolate Irish Cream Icing
1 lb. unsalted butter, softened
2 1/2 cups confectioners sugar
1/2 cup unsweetened dark cocoa
1 tablespoon pure vanilla extract
2 tablespoons Irish cream liquor
Place butter in a medium size mixing bowl or standing mixer, beat at medium speed for 2-3 minutes. Add confectioners sugar, cocoa, vanilla, and Irish cream liquor, continue mixing for another 2-3 minutes. Spoon icing into pastry bag with cake decorating tip, pipe on top of cupcakes. Drizzle with chocolate ganache. Store cupcakes in refrigerator for up to 5 days, or in freezer for up to 3 months.
For the Chocolate Ganache
1/2 cup semisweet chocolate chips
1/4 cup heavy cream
Heat heavy cream in a microwave safe dish for 30-45 seconds, or until it starts to bubble. Pour over chocolate chips in a small mixing bowl, whisk together until chocolate is melted and smooth.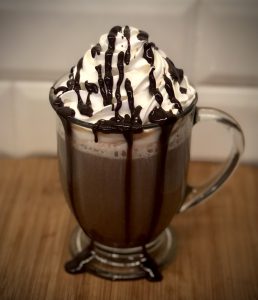 Spiked Hot Chocolate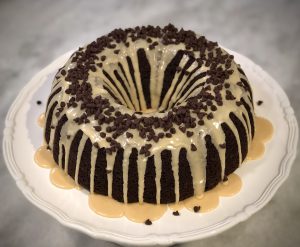 Chocolate Irish Cream Bundt Cake