Gluten-Free
It seems like everyone says their recipe is the best, and they're right. Everyone is different and has their own special brand of crazy, so I'm here with my special brand of crazy to tell you that THIS is the best creamed corn. Well, at least our family thinks it is, so that's what matters to us. But hey, when your kids go out of their way to get second helpings, I'd say that's a winner in my book.
I almost forgot how amazing this was until flipping through some of my recipes and it hit me like a ton of bricks that I hadn't made it in a long time. It's easy, it's ridiculously delicious, and it's addictive. Well, maybe that last part isn't particularly a great thing, but then again maybe it is?? Either way, it's something that I love to make when we have guests over for dinner to share our special brand of crazy with them too.
The BEST Creamed Corn
2 tablespoons butter
1 tablespoon Gluten-Free All-Purpose Flour
12 oz. package frozen corn kernels, thawed
1 cup half and half
1/2 teaspoon salt
1 teaspoon sugar
1/4 teaspoon black pepper
1/4 cup freshly grated parmesan cheese
In a skillet over medium heat, melt butter. Whisk in flour with butter and cook for about one minute.  Add corn and half and half to skillet, cook stirring over medium heat until the mixture is thickened and corn is cooked through (about 10 minutes). Add salt, sugar, and pepper to corn, mix. Remove from heat and stir in parmesan cheese until melted, serve hot.
FREEZER INSTRUCTIONS: Double the batch, and spoon creamed corn into freezer safe glass containers. Store in freezer for up to 3 months, pull out to thaw in refrigerator overnight when ready to eat, reheat in microwave until hot.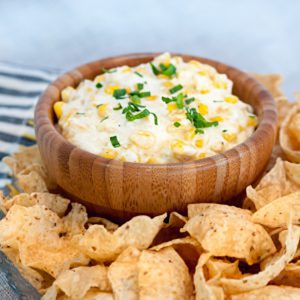 Creamy Corn Dip
Carolina Reuben Pinwheels