Gluten-Free/Dairy-Free/Plant-Based/Vegan
While looking for new recipes to play with, this one popped up. Since I'm always up for a healthy breakfast recipe, it seemed like a no-brainer to give this one a shot. Honestly though, that's my rationalization for almost EVERY recipe I come across. It's a no-brainer, right? Of course it is. I HAVE to try it.
I love making oatmeal in the morning for breakfast because it's so quick and easy, and it amazes me how good I feel after eating it. Is this what the Roman Athletes ate for breakfast while training, because I feel like I should be fighting off bulls in the middle of an arena while throwing a spear through a 6 inch hoop 300 feet away. Okay fine, so it's not that extreme, but my belly and gut are super happy when I eat this for breakfast.
I wasn't sure how the consistency was going to turn out with this since it's baked and I didn't want to overdo it, but it was perfect. Wild blueberries are my fruit of choice when it comes to oatmeal, because you're guaranteed a little burst of blueberry with each bite. These little wild blueberries are also higher in antioxidants, so that's a double win. You can use different fruits in this recipe, and I will be all over a combination of several different kinds like apples, strawberries, and peaches. Step aside, Wheaties.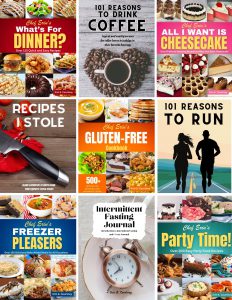 Baked Oatmeal
1 3/4 cup milk (dairy or non-dairy)
2 tablespoons ground flaxseed + 6 tablespoons water
1/2 cup maple syrup
1/4 cup unsweetened applesauce
3 cups old fashioned oats
1 teaspoon baking powder
2 teaspoons cinnamon
2 teaspoons vanilla extract
1/4 teaspoon salt
1 1/2 cups frozen wild blueberries
1/2 cup chopped walnuts
1/2 cup slivered almonds
Preheat oven to 350 degrees. Combine milk, flaxseed mixture, maple syrup, applesauce, vanilla, baking powder and cinnamon in a large mixing bowl and whisk together well. Add oats, baking powder, and blueberries; stir together well. Spoon into a greased 11×7 inch casserole dish. Sprinkle walnuts and almonds on top, bake for about 35 minutes. Serve warm, store leftovers in refrigerator for up to 7 days.
If preparing for on-the-go breakfast, spoon into glass containers and reheat in microwave when ready to eat.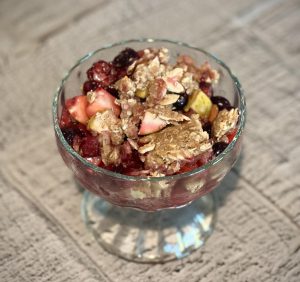 Fruit Crumble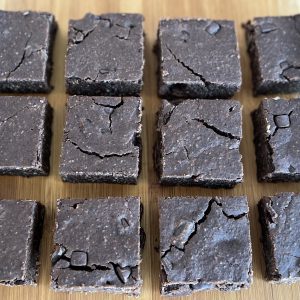 Fudgy Black Bean Brownies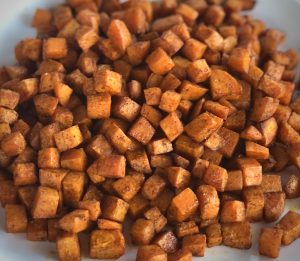 Roasted Chipotle and Cinnamon Sweet Potatoes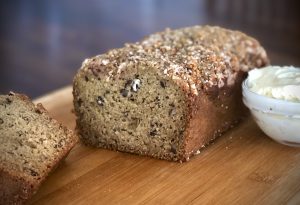 Banana Nut Bread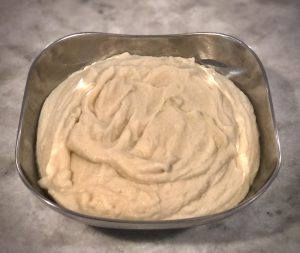 Sneaky Mashed Potatoes (with cauliflower)