Every summer, my husband's family takes a vacation to Pawleys Island. When we first started dating, the group was somewhat smaller, but it has grown substantially over the past 15 years he's been stuck with me. The grandkids have been growing up and having their own kids, and we went from 15 people staying in one beach house to 20-something staying in at least two houses.
I'll scream this from the rooftop…his family can COOK.
Ho. Lee. Cow.
Our trips consist of so much food you'd think it was a week long training session for food critics and high school athletes. Every single morning, Aunt Betsy is up making grits, eggs, and bacon…and Aunt Susan is up making fresh brewed coffee. Nana preps food the entire week leading up to vacation, including:  pimento cheese, chicken salad, egg salad, a huge variety of different cookies, and they get two large hams so we're set for sandwiches throughout the week. The funny part is we usually end up running out of ALL OF IT at least a few days before we leave, so we're scrambling to grab more food at the store. Uncle Sherman brings his ice cream maker and makes peach ice cream (which always disappears immediately). My mother-in-law makes at least 2-3 different cakes, and this past year I brought a variety of muffins. Dinners during the week include Beaufort Stew, (or Lowcountry or Frogmore, whatever you call it), fish fry, shrimp and grits, grilled steaks with baked potatoes and fresh veggies. Oh, and don't forget the fully stocked bar that's set up for the week that leads to a LOT of entertainment. The nights we go out, we're hitting some of our favorite seafood restaurants in Murrells Inlet.
The first year I made buttermilk pancakes, I couldn't get them off the skillet fast enough before they disappeared. Since then, I've been in charge of making these pancakes at some point during the week. Considering how much cooking and baking I do while NOT on vacation, I'm more than happy to have only one culinary responsibility and mooch off the amazing food that is provided by the family all week long. In other words, that's my week to be lazy, and I take advantage of it 1000 percent. The great thing about this recipe is the variety, because they always start out as good ole fashioned buttermilk pancakes, then halfway through I start throwing blueberries or chocolate chips in there.
Blueberry Buttermilk Pancakes
1 1/2 cups all purpose flour
2 tablespoons granulated sugar
1 teaspoon baking powder
1/2 teaspoon baking soda
1/2 teaspoon salt
1 1/2 cups buttermilk
1 egg
1 teaspoon vanilla extract
2 tablespoons butter, melted
1 cup fresh blueberries*
Combine flour, sugar, baking powder, baking soda, and salt in a medium mixing bowl. Whisk egg, vanilla, and butter into buttermilk. Pour the wet ingredients into the flour mixture and whisk until most lumps are gone.  Gently stir in blueberries (or chocolate chips). Heat a large skillet over medium heat, and coat with cooking spray. Pour 1/4 cupfuls of batter onto the skillet, and cook until bubbles appear on the surface. Flip with a flexible spatula, and cook until lightly browned on the other side. Serve warm with butter, syrup, and a big smile.
*You can use chocolate chips in place of blueberries for chocolate chip pancakes, and add whipped cream!
Freezer Meal Instructions: When pancakes have cooled completely, wrap individually in plastic wrap and stick in a Ziplock freezer bag. Store in freezer until ready to reheat, 30 seconds on each side in microwave!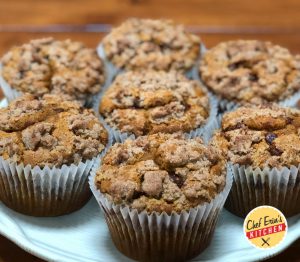 Best Pumpkin Spice Muffins