Gluten-Free/Dairy-Free/Vegan
Check out my YouTube Channel!!
Last year for an entire month, I was curled up in a ball with massive stomach pain on a daily basis…and when you're working 8-10 hour days on your feet in a restaurant kitchen unable to rest, it makes a fun day. After many tests and bloodwork done and gallbladder issues were ruled out, I was sent to a gastroenterologist who conducted MORE tests. The end result? A triple-threat winning combination of; IBS (Irritable Bowel Syndrome), SIBO (Small Intestinal Bacterial Overgrowth), and Gastritis…ALL AT THE SAME TIME. My doctor suggested a Low FODMAP diet to help control symptoms and soothe the belly, since I had severe side effects from a super strong antibiotic that only made things worse. I was happy he prescribed a dietary change instead of a magic pill, because personally I would rather fix the problem than mask it.
That's where this wonderful breakfast item comes in to play. My stomach was under control and feeling pretty good for a while when we went on vacation to Disney World. I made a batch of this stuff, packed containers in a cooler so it could travel with us for a healthy breakfast item for my sensitive tummy.
Let's face it, folks…at some point while on vacation, most people indulge in too much to eat.
My time was when we had an adult night out and my mother-in-law was babysitting the kids. I COMPLETELY overdid it with dinner. Martinis, yeast rolls with butter, lobster bisque, cajun mac 'n cheese, more martinis, crab cakes, and a chocolate sundae for dessert.
Oh, hello massive stomach pain!!!! I missed you SOO much! The exact pain that I had experienced so much of months before had come back with a vengeance, ruining our last night on vacation.
Only this time, I actually knew what to do. My diet was immediately cleaned back up the next morning, when I had this for breakfast. After eating clean for just one day, the stomach pain went away quickly. It's amazing what diet can accomplish.
Words cannot express how good my system feels after eating this for breakfast. My blood sugar levels stay stable, I'm full for several hours, and overall my system feels incredibly CLEAN…and I usually pair this with an egg scramble (1 egg, 1/2 cup egg whites, and 2 tablespoons low fat cheddar) for some extra protein.
In the process of this dietary change, there have been a lot of tears. Frustration and desperation of not knowing exactly what was wrong and the willingness to do ANYTHING to fix it, and the amount of pain and bloating were almost unbearable at times. I experienced food withdrawals from eliminating several different types of food (worst symptoms were coming off gluten), and it was a helluva struggle at first, but the end result has been worth it. In ten months, I lost 25 pounds and 10 inches, went from a size 14 to a 6, and feel SO. MUCH. BETTER.
These days, I still have 3-4 cheat meals a week (eating whatever I want, including gluten and sugar) and 3-4 alcoholic beverages per week. I'm not 100% free of all bad foods, because let's face it… I'm a chef who owns a business that specializes in comfort food. Seriously, look at some of the food I make that isn't a good example of healthy…but holy moly it's delicious. This has become the perfect balance for me, and honestly I have a stronger appreciation for those "cheat" meals since I don't eat them ALL THE TIME like I used to.
If you enjoy curse words written in a way to make you enjoy a full belly laugh, check out Thug Kitchen. I slightly modified this recipe from their first cookbook with specific measurements of coconut sugar and cinnamon, and my mom likes to throw a handful of walnuts and fresh fruit into hers.
Quinoa Oatmeal
1 cup organic steel cut oats
1/2 cup quinoa
4 1/2 cups water
1/4 cup coconut sugar (or maple syrup)
1 tablespoon cinnamon
Combine steel cut oats and water in a pot on medium/high heat. Place quinoa in a mesh strainer and rinse with cold water (they will taste bitter if you skip this step!), then add to pot. Bring to a boil, then reduce heat to low/medium and cook for about 20-22 minutes, until oats are cooked through and water is absorbed. Add cinnamon and coconut sugar, stir well. Spoon into 5 or 6 containers, cool, cover and store in refrigerator for up to 7 days. This also freezes very well in case you don't eat all of it in a week!
To reheat: transfer oatmeal to a microwave safe dish, add some water, cook for 90 seconds. Stir, cook for another 15-30 seconds if needed.
Freezer Meal Instructions: Distribute evenly into freezer safe containers, store in freezer for up to 3 months. Thaw overnight before reheating.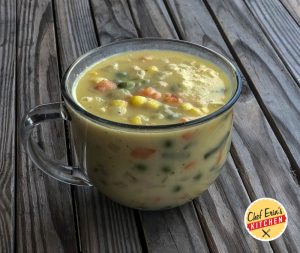 Hearty Vegetable Chowder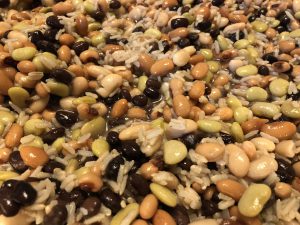 Easy Beans and Brown Rice