Every year for Easter, we go to my in-laws' house for an amazing, stuff-your-belly-until-you-can't-move lunch. Oh yeah, and don't forget about dessert. That would be illegal.
One year, my mother-in-law made Strawberry Shortcakes. I was excited, because I literally hadn't had a Strawberry Shortcake since I was a kid…so it had been a minute. What I remembered most about Strawberry Shortcake growing up was the little character from the 80's. Why yes, I certainly DO remember the previous century.
Shortcakes are essentially sweet biscuits, so slathering some fresh strawberry sauce and whipped cream on top is enough to send you into a blissful coma. Gimme a minute of silence after eating this delightful creature, please and thank you.
What's amazing is how incredibly EASY it is to make these babies. In fact, you can make the shortcakes and strawberry sauce ahead of time. I like to wrap the shortcakes in plastic wrap and store in the freezer for up to six months, just pull them out to sit on the counter a few hours before serving. The strawberry sauce can be made ahead and stored in the refrigerator for up to 7 days, but if you're making the whipped cream from scratch that needs to be done when you're ready to serve them. Take a shortcut by using whipped cream in a can or some frozen whipped topping that has been thawed. I know the Easter Bunny would be proud of this dessert.
Strawberry Shortcakes
For the Shortcakes
2 1/3 cups Bisquick baking mix
1/4 cup granulated sugar
1/4 cup butter, melted
1/2 cup milk
Preheat oven to 425 degrees. In a medium size mixing bowl, combine all ingredients and stir until a soft dough forms. Drop dough on a silicone lined baking sheet using a cookie scoop, then slightly push down on each biscuit. Place pan in oven and bake for 10-12 minutes, or until lightly golden.
For the Strawberry Sauce
3 cups frozen strawberries, thawed
1 tablespoon granulated sugar
While biscuits are baking, throw strawberries in a pot on medium heat. When strawberries start to heat up, mash well with a potato masher or fork. Add sugar and stir, continue cooking for about 5 minutes. Remove from heat and set aside.
For the Whipped Cream
1 cup heavy whipping cream
1 tablespoon granulated sugar
When ready to assemble shortcakes, combine heavy cream and sugar in a medium size mixing bowl or standing mixer and beat at high speed until stiff peaks form. Spoon or pipe on top of shortcakes.
*Use prepared whipped cream in a can or frozen whipped topping (that has been thawed) for a shortcut.
Putting It Together
Slice shortcake in half, place bottom on a plate. Top with strawberry sauce, other shortcake half, more sauce, and garnish with whipped cream.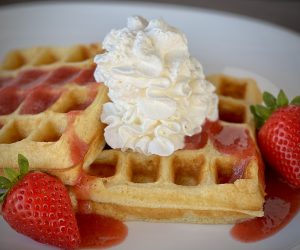 Best Ever Waffles with Strawberry Maple Syrup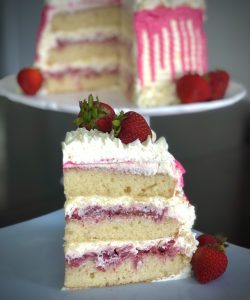 Strawberry Shortcake Layer Cake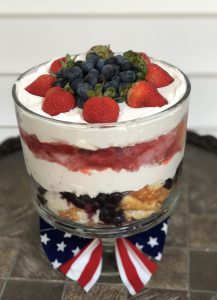 Super Easy Berry Trifle