Gluten-Free Option
If you raise an eyebrow at the title of this entry, you're not the first…because I did too when I was searching for good waffle recipes to experiment with.  When my husband and I got registered for bridal gifts after our engagement, we spent almost three hours in Bed Bath & Beyond.  I was worn out by the end of that escapade, but really did enjoy picking out things that we wanted to receive as wedding gifts.  Among these items was a waffle iron.  This was before I really got into baking and cooking, so my husband was actually the one who made waffles for us on the weekends.  He always used the Bisquick mix to make them, and we were both always very happy with the waffles that he made.
Over the years, I got waffled out.  Within the last few years, I have perfected my fluffy pancake recipe, and make them pretty regularly on the weekends.  And since I have gotten into all of this, we haven't bought much Bisquick these days…and my husband was convinced after one try that we should just stick to using Bisquick for waffles.  Well, I proved him wrong.  I've seen this technique used before where you beat the egg whites separately until they become white and thick before folding them in, but had never tried it.  Word of wisdom…don't even waste your time trying to whisk them, your forearm will be worn out before it gets big like Popeye and they STILL won't be the consistency that you need for them to be.   My husband got his plate of one huge waffle, and I anxiously watched him as he took the first couple of bites.  "This is good," he said.  Oh, good  I thought.  A minute later, I hear, "Mmm, this is really good."  I smiled.  And again, another minute passes before his fork clinks on the plate after finishing, and he says, "Man, that was awesome.  I want another one."  My husband NEVER even considers having another waffle after eating that big ole thing.  Seriously?!  Success!  I did make a couple of slight variations of the original recipe that I found, but these waffles are so incredible.  Light and crispy on the outside and soft on the inside.  Just the way we like 'em.  Buh-bye, Bisquick!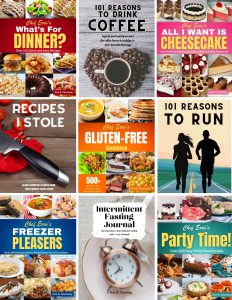 Best Ever Waffles
1 1/3 cups all-purpose flour (make this gluten-free by using GF All-Purpose Flour)
4 teaspoons baking powder
1/2 teaspoon salt
1 tablespoon sugar
2 eggs, separated
1/2 cup butter, melted
1 teaspoon vanilla
1 3/4 cups milk
In a large mixing bowl, whisk together all dry ingredients.  Separate the eggs, adding the yolks to the dry ingredient mixture, and placing the whites in a small mixing bowl.  Beat whites at medium speed with electric mixer until white and soft peaks form, set aside.  Add milk, melted butter and vanilla to dry ingredient mixture, whisk together well.  Fold stiff egg whites into mixture.  Pour batter into hot waffle iron and bake, this batch makes 6 waffles.
Strawberry Maple Syrup
2 cups frozen strawberries, thawed*
1/2 cup maple syrup
Combine both ingredients in a blender and puree until smooth. Pour through a fine mesh strainer and store in refrigerator for up to 2 weeks.
*Switch up the fruit by using blueberries or raspberries!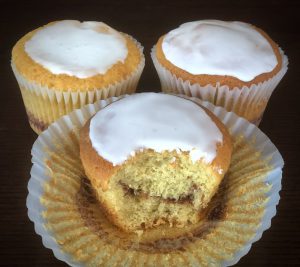 Cinnamon Roll Muffins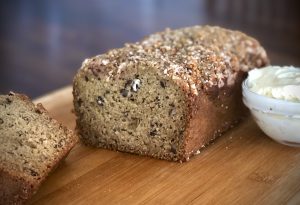 Banana Nut Bread with Honey Butter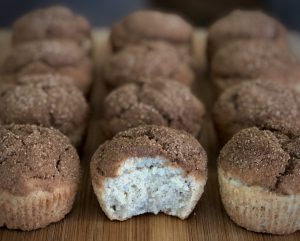 Apple Cider Donut Muffins