Gluten-Free
Here in South Carolina, when the Fall hits it still feels blazin' hot outside like it's still summer. So, what perfect way to celebrate official Pumpkin Season with a cold, sweet treat that is the wonderful combination of a Fall flavor but helps you cool off? Yes, I agree with you.
I wanted to make sure there was plenty of pumpkin flavor in this recipe, which is where an entire can comes from. Can I have some pumpkin, please? Absolutely. The combination of cinnamon and pumpkin spice along with brown sugar gives this easy-to-make homemade ice cream incredible flavor, and the Maple Whipped Cream sends it over the edge. Sprinkling pecans on top is optional, but since I'm nutty it was a must. My mother-in-law walked in the door right after I took a picture of this in all its glory, and her eyes got huge.
"Are you going to eat that?" she asked.
"Oh good lord, I couldn't eat all of this; you'd have to roll me outta here. Wanna help?"
A few minutes later, she was at the table with a spoon, ready to be a professional taste tester. She approved.
No-Churn Pumpkin Spice Ice Cream
14 oz. can sweetened condensed milk
1 cup pumpkin puree
1/2 cup light brown sugar
1 teaspoon pumpkin spice
1 tablespoon vanilla extract
2 cups heavy cream
1 cup chopped pecans (optional)
In a large mixing bowl, combine sweetened condensed milk, brown sugar, pumpkin, vanilla, and pumpkin spice, whisk together well. In a standing mixer or medium size mixing bowl, beat the heavy cream at high speed until stiff peaks form. Spoon half of whipped cream into condensed milk mixture, stir together with a spatula until well-combined. Add remaining whipped cream and repeat process, stir in pecans. Pour into a ice cream container, cover and place in freezer for a minimum of 4 hours to set. Served with Maple Whipped Cream, pecans if you're a nut-lover, and drizzle with caramel sauce for the ultimate Fall-Summer experience.
Maple Whipped Cream
1 cup heavy cream
1 tablespoon granulated sugar
1/2 teaspoon pure maple extract
Freezer Instructions: Store in freezer for up to 6 months, pull out to enjoy as desired.
Single-Serve Cups: My favorite way to make ice cream is by distributing them into 4 oz. containers for the kids, and 8 oz. containers for the adults. Not only does this save you from scooping ice cream into bowls and getting less dishes dirty, it's also a great way to not eat an entire pint at a time.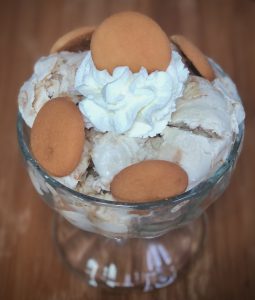 No-Churn Banana Pudding Ice Cream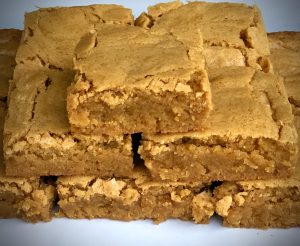 Butterscotch Brownies