Gluten-Free/Dairy-Free/Vegan
I didn't realize how completely in love with scones I was until I started actually making them. The first time I made scones were the traditional kind, made with gluten and dairy. Although they were fabulous, the process of making them was more time consuming than these little puffs of heaven that you just drop on the pan like biscuits. These are super easy to mix up and plop on baking sheets, ready in about 15 minutes without all the side effects of not feeling all that great after eating one.
Now that it's rare for me to eat a traditional pastry, it was time to start making dairy-free, gluten-free pastries at home for myself and any other family members I could throw at them. One of my favorite indulgences on the weekends with my coffee is one of these delicious little goobers. All the flavor and enjoyment with each bite minus the tummy pains is a huge plus in my book!
Lemon Blueberry Scones
1 cup brown rice flour
2 cups oat flour
1 cup almond flour
1 teaspoon xanthan gum
2 tablespoons baking powder
1 teaspoon salt
1/4 cup granulated sugar (optional)
1 1/2 cups non-dairy milk (I use almond or oat)
1/2 cup maple syrup
juice and zest from 1 lemon
10 tablespoons plant butter or coconut oil, melted
2 cups frozen wild blueberries, thawed and drained
1/3 cup confectioners sugar
1-3 tablespoons water (depending on how thin or thick you want your icing)
Preheat oven to 350 degrees. In a medium size mixing bowl or standing mixer, combine all flours, baking powder, xanthan gum, salt, and sugar. Stir slowly just until blended, add non-dairy milk, maple syrup, juice and zest from lemon, and melted butter. Beat at medium speed just until well-combined. stir in wild blueberries. Using a cookie scoop, scoop out batter onto silicone lined baking sheets. Lightly press each scone with the palm of your hand. Place in oven and bake for 14-16 minutes, or until lightly browned. Remove from oven and cool completely on pans. Combine 1/3 cup confectioners sugar and water in a dish and mix well with a spatula before drizzling over cooled scones.
Freezer Instructions: When scones have cooled completely and icing is dried, wrap each one individually and store in freezer for up to 6 months. Pull out to thaw when ready to enjoy.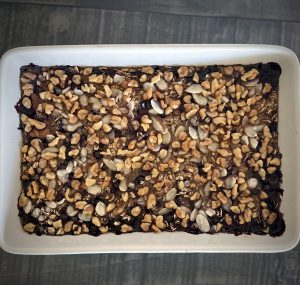 Baked Oatmeal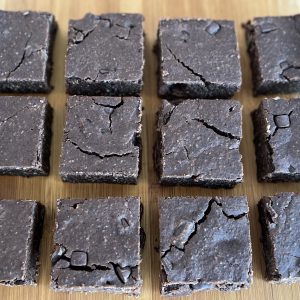 Fudgy Black Bean Brownies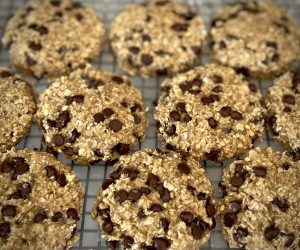 Banana Oatmeal Cookies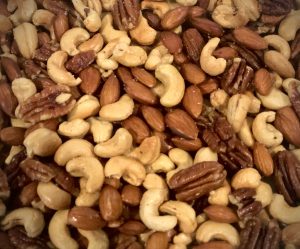 Roasted Mixed Nuts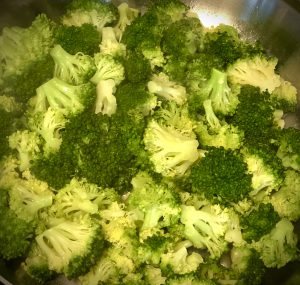 Our Favorite Broccoli