Gluten-Free/Dairy-Free/Vegan
When I switched over to making all gluten-free, dairy-free baked goods at home, hubby was a little less than thrilled. "Wait, does that mean you won't be making Cinnamon Roll Muffins anymore?" he asked sadly. He's not big into the lifestyle I'm into, but is willing to try new things…as long as I don't try to trick him into eating something he doesn't know exactly what's in it. That's our deal, I have to be straight forward about what I ask him to try, and he'll try it. 
When he was done pouting about the Cinnamon Roll Muffins exiting our house, he agreed to at least give these new muffins a taste. "It's a very similar concept, but they're much healthier!" I cried. He must have been hungry, because he wolfed the whole thing down while examining each bite.
"They're more dense than the other ones, but they're really good," was his response after eating it.
That is one thing I explain to people when they're switching over to healthier ingredients from traditional flour. Since these muffins are made with oat flour and ground flaxseed, they are more dense…because they're packed with nutrients and fiber. They're also incredibly filling, so you're not looking for something else to eat thirty minutes later. He saves these for the weekends, but also on days when he's doing a run. These babies provide plenty of fuel that are perfect before a long workout, and since we're both regularly training for endurance events, we're hitting all kinds of wins over here.
Pumpkin Cinnamon Roll Muffins
For the Muffins
1 cup granulated sugar
1/2 cup light brown sugar
2 cups oat flour
1/4 cup ground flaxseed meal + 3/4 cup water (combine and set aside for 5 minutes to thicken)
15 oz. can pumpkin puree
2 teaspoons baking powder
2 teaspoons cinnamon
1 teaspoon baking soda
1 teaspoon salt
1 teaspoon vanilla
1 cup vegetable or coconut oil
1/4 cup granulated sugar + 1 tablespoon cinnamon (mixed together in a small bowl)
Preheat oven to 450 degrees. In a standing mixer or medium size mixing bowl, combine all ingredients (except 1/4 cup granulated sugar and 1 tablespoon cinnamon). Beat at medium speed for 1 minute. Scoop into lined jumbo muffin pans 1/3 full, sprinkle 1 teaspoon of cinnamon/sugar mixture on top, then scoop more batter on top to fill 2/3 full. Place pans in oven and bake for 12 minutes. Decrease oven temperature to 350 degrees and continue baking for another 15-16 minutes. Remove pans from oven, let muffins cool in pans for about 5-10 minutes before removing from pans and letting cool on cooling racks. When cooled, drizzle with icing.
For the Icing
1 cup confectioners sugar
2-3 tablespoons water
Combine confectioners sugar and water together to make icing, drizzle on top of cooled muffins.
Freezer Instructions: When muffins have cooled completely, individually wrap with plastic wrap and store in freezer for up to 6 months. Pull out to thaw at room temperature as needed.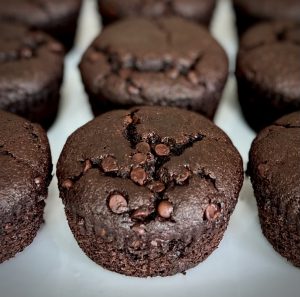 Double Chocolate Zucchini Muffins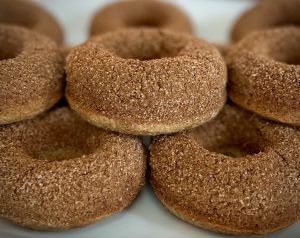 Baked Apple Cider Donuts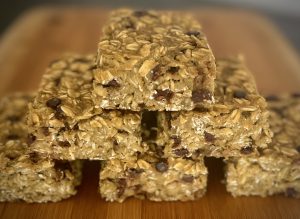 Banana Oatmeal Breakfast Bars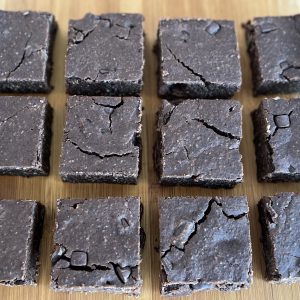 Fudgy Black Bean Brownies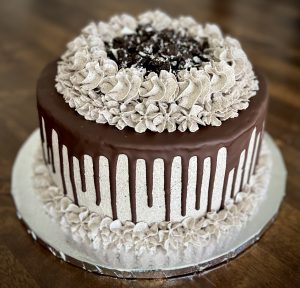 Cookies 'n Cream Cake