While I was looking through some recipes one evening, I found one of a s'mores cake.  It sounded delicious…graham cracker crumbs baked in with the flour to make an amazing cake.  So, then I thought, What if I made that into a cookie?  I fell asleep that night, dreaming of s'mores cookies, brainstorming of how to put all of this together.  Two graham cracker cookies sandwiching a marshmallow and semisweet chocolate?  Yes!!  A few days later, I made my list for the grocery store and decided to give it a shot.  These actually may be equivalent to my S'mores Candy Bars, but it might be a close call.
I've been doing so incredibly well with not going overboard with junk food, and I promised myself no more than one bite.  That didn't happen, and I'm 100% okay with that. Quality Control is one of my responsibilities with recipes, so I couldn't let myself down.
S'mores Cookies
1 1/4 cup all purpose flour
1 cup graham cracker crumbs
1 teaspoon baking soda
1/2 teaspoon salt
1 small box instant vanilla pudding mix
2 sticks unsalted butter, softened
3/4 cup light brown sugar
1/4 cup white sugar
2 eggs
2 teaspoons vanilla extract
1 bag large marshmallows
12 oz. bag semisweet chocolate chips
1/2 cup heavy cream
Preheat oven to 350 degrees.  Cream butter and sugar in medium mixing bowl (or standing mixer) and beat with electric mixer at medium speed until well blended.  Add eggs, vanilla, and pudding mix, continue beating until combined.  In a small bowl, combine remaining dry ingredients.  Pour half of dry mixture in with wet mixture, continue beating, then add remaining dry ingredients.  Use a small cookie scoop to make the cookies small enough to be about the same size as the marshmallows.  Bake for 11-14 minutes on silicone lined cookie sheet, or until a light golden brown on top. Remove pan from oven.
Half of the cookies will be used as the bottom, and the other half as the top.  For the bottom half of the cookies, slice large marshmallows into four pieces, place on top half of cookies immediately after they come out of the oven.  This allows the marshmallow to melt slightly and stick to the bottom cookie.  The remaining cookies that will be used as the top part, let them cool completely by themselves.  Heat heavy cream in microwave safe dish for 45-60 seconds, or until it starts to bubble. Pour over chocolate chips in a small mixing bowl and let set for 1 minute before whisking until chocolate chips are melted and smooth. Spoon a small amount of chocolate ganache on top of marshmallows. Place top cookie on top of melted chocolate, and press down gently to seal together. Store in airtight container for up to 5 days, or individually wrap with plastic wrap and store in freezer for up to 3 months.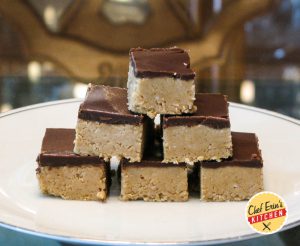 Chocolate Peanut Butter Bars