Gluten-Free/Dairy-Free/Low-Carb/Keto
Coleslaw has always been one of my favorite side dishes, even as a kid. As my mom chopped up fresh cabbage, I would run in the kitchen and snag a big piece, then chew it up and breathe in my big brothers' faces because they HATED cabbage. Clearly I am the Best. Sister. Ever.
Most of the time when we are headed to a cookout or are grilling out at home, this is a go-to side dish. One of my favorite things to do is create a Slaw Dog by slathering this on top of a thick, juicy hot dog with some ketchup and mustard (pictured below). I also use this recipe when making Carolina Reuben Pinwheels, one of my favorite cold appetizers.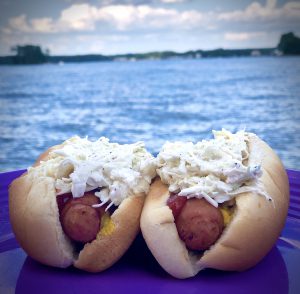 Thankfully, our kids are also fans of coleslaw. A lot of recipes I've seen have many different ingredients, but I prefer to keep it simple the way my mom did, with only three ingredients. One of the things I love about options is that you can choose what kind of coleslaw you use. I typically grab the angelhair coleslaw, but you can always mix it up and get a different variety that may have extra vegetables mixed in.
If you like relish or a sprinkle of sweetener in your coleslaw, feel free to throw a little bit in as well!
Super Simple Coleslaw
1 bag angel hair coleslaw
2/3 cup mayonnaise
1/2 teaspoon black pepper
Combine all ingredients in a medium size mixing bowl, mix together well and store in refrigerator until ready to serve. Store leftovers in fridge for up to one week.